Policies and General Information
By Lachicotte Vacation Rentals
Below you'll discover quick answers to your questions regarding the policies and procedures upheld by The Lachicotte Company Vacation Rentals. In developing these policies, The Lachicotte Company Vacation Rentals considers the needs and comfort of all guests with hopes of making each stay in our rental properties a positive experience for everyone. We strive to provide the best in customer service and the vacation experience, and these policies help to ensure that you will enjoy every minute of your stay in beautiful Pawleys Island, South Carolina. For more information, please complete an inquiry form on our Contact page or contact us by telephone.
---
COVID-19 DISCLOSURE AND ASSUMPTION OF THE RISK:
Coronavirus Disease 2019 (COVID-19) has been declared a worldwide pandemic by the World Health Organization and U.S. Centers for Disease Control and Prevention. COVID-19 spreads easily and is believed to spread in similar ways to influenza which may include: spreading through the air by coughing and sneezing; close personal contact, such as touching or shaking hands; and touching an object or surface with the virus on it, then touching your mouth, nose, or eyes. Spread is more likely when people are in close contact with one another (within 6 feet). As a result, federal, state and local governments and federal and state health agencies recommend social distancing and have, in many locations, prohibited the congregation of groups of people.
The owners and managers of The Lachicotte Company have put into place certain preventative measures to reduce the spread of COVID-19; however, The Lachicotte Company cannot guarantee that you, and the other members of your party (including minor children), will not become infected with COVID-19. Further, occupancy at any Lachicotte property and the enjoyment of common areas and amenities could increase your risk and those in your party of contracting COVID-19.
BY CONFIRMING YOUR RESERVATION AND OCCUPYING A BEACH HOUSE / CONDO RENTAL THROUGH THE LACHICOTTE COMPANY, YOU (ON BEHALF OF YOURSELF AND ALL MEMBERS OF YOUR PARTY, INCLUDING, WITHOUT LIMITATION, ALL MINOR CHILDREN), EXPRESSLY ACKNOWLEDGE AND AGREE THAT: (A) COVID-19 IS A CONTAGIOUS AND COMMUNICABLE DISEASE AND ALL MEMBERS OF YOUR PARTY VOLUNTARILY ASSUME THE RISK THAT YOU (AND ALL MEMBERS OF YOUR PARTY, INCLUDING MINOR CHILDREN) MAY BE EXPOSED TO, OR INFECTED BY, COVID-19 AS A RESULT OF OCCUPYING A BEACH HOUSE / CONDO RENTAL THROUGH THE LACHICOTTE COMPANY; (B) ANY SUCH EXPOSURE OR INFECTION MAY RESULT IN PERSONAL INJURY, ILLNESS, PERMANENT DISABILITY, AND/OR DEATH; AND (C) ALL MEMBERS OF YOUR PARTY HAVE BEEN, OR WILL BE, INFORMED OF THESE EXPOSURE AND CONTRACTION RISKS BY YOU AND THAT BY VIRTUE OF THEIR OCCUPANCY OF A BEACH HOUSE / CONDO RENTAL THROUGH THE LACHICOTTE COMPANY, ARRANGED BY AND THROUGH YOU, EXPRESSLY ASSUME THE SAME.
---
"FORGET ME NOT" LIST
All of our properties have fully equipped kitchens, all beds have mattress pads, pillows and bed spreads. You will need to bring: Paper products including paper towels & toilet paper, Condiments, Cleaning Supplies, Beach towels, Laundry detergent, Soap & Shampoo, Sheets & Towels.
---
MAIL AND MESSAGES
All mail and messages will be held for you at the front desk at The Lachicotte Company. If you are having mail sent to you, please be sure to tell the sender to include your name & rental unit number on the envelope. Mail sent via US Postal Service should be sent to 10554 Ocean Hwy., Pawleys Island, SC 29585. It is your responsibility to check for any correspondence. If using UPS or Fed-Ex, they can deliver directly to the address of the home or condo you are staying in.
---
NON SMOKING RENTAL UNITS
All rental unit owners have selected to designate their units as no-smoking units. Guests of the unit violating that request will cause the entire party to be evicted with no refund. Should traces of smoke be detected by our cleaning/inspecting personnel, there will be a fee charged to the renter. Smoking includes all kinds of lighted material to be inhaled, including cigarettes, cigars, pipes, etc.
---
PETS
Dogs (no cats) are allowed only in designated "Pet Friendly" homes. NO EXCEPTIONS. Pets are limited to two domestic, housebroken dogs unless otherwise advertised. There is a non-refundable $250.00 (plus tax) pet cleaning and spray fee that will be charged to each guest bringing a pet. Any violation with pets in a "No Pets" home or any pet other than a dog will be cause for termination of tenancy.
---
TRASH PICK-UP & RECYCLING
Our beaches are serviced by an automated trash pick-up system. Renter must place all trash within the large cans at the renter's unit the night before each pick-up day. Trash not placed in these cans will not be picked up. All Pawleys Island rental units have recycling containers and will be picked up curbside on Wednesdays. Materials to Recycle: all cans, and plastics including milk jugs, soft drink containers, shampoo bottles, laundry detergent containers, cough syrup containers, peanut butter jars, water bottles, salad dressing containers, household cleaner containers.
---
SEA TURTLES
The loggerhead sea turtle is South Carolina's state reptile. This reptile is protected by state and federal laws. From May 1 to October 31, these sea turtles come to nest on our beaches. During this time it is strongly suggested that beachfront lights are turned off after 10:00 pm to avoid disturbing the nesting process.
---
FIREPLACES
Fireplaces will be shut down and unavailable for use from June 1 through November 1.
---
LOCKED CLOSETS
Many owners have personal belongings locked in a closet for their convenience. These areas are off-limits to renters and are not part of the rental agreement.
---
LOST & FOUND
The Lachicotte Company will not be responsible for any personal items left in our vacation rental properties. Items that renters request to be returned will be taken to UPS. You will need to call UPS 843-237-7951 and give them a credit card number for shipping/ handling charges. If the renter requests staff to go to the unit & retrieve an item the renter has left there, the renter will incur a $25.00 charge. Items left behind will be placed in our "lost and found" for a period of 10 days. After that period of time has expired, items will be donated to charity.
---
RENTAL HOMES FOR SALE
In the event the vacation home you are renting is on the market for sale, you will be informed of potential showings with next-day notification. These showings may occur any day between the hours of 9:00 a.m. and 6:00 p.m. While the showings are necessary and mandatory, we will try our best not to cause you and your party any inconvenience. Thank you for your cooperation and understanding.
---
FORUM SELECTION CLAUSE
This agreement shall be governed by and interpreted in accordance with laws of the State of South Carolina. This agreement shall be treated as though it were executed in the county of Georgetown, State of South Carolina, and were to have been performed in the county of Georgetown, State of South Carolina. Any action relating to the agreement shall only be instituted and prosecuted in courts in Georgetown County, South Carolina. Lessee/Tenant specifically consents to such jurisdiction and to extraterritorial service of process.
Although every precaution has been taken, this information may contain errors. The Lachicotte Company reserves the right to make necessary changes or corrections that may be in place after the posting of this information has already occurred. Please check with the office upon reservation to receive updates as well as check online at http://www.lachicotte.com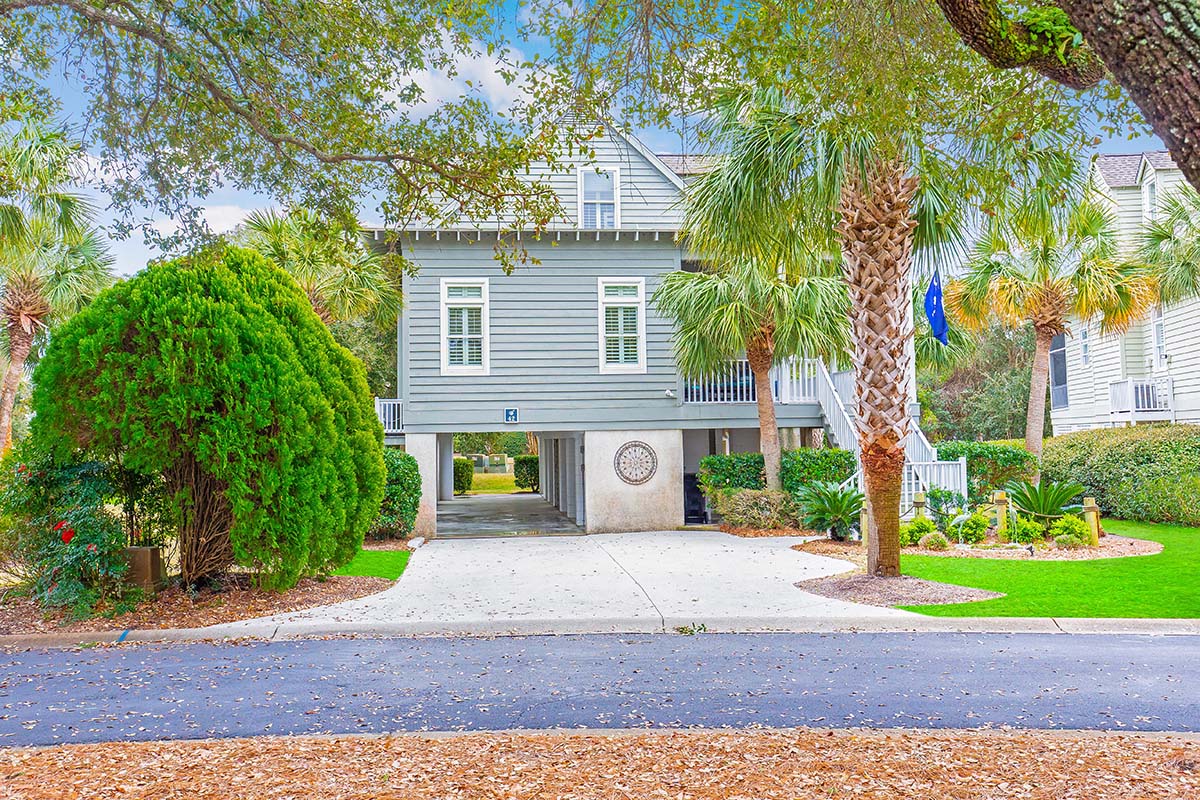 Compass Point 42
Quattlebaum
Owls Nest