Stays that include the following days require a night minimum: Fri, Sat
Sorry, but the dates you selected require a night minimum stay. Please adjust your search and try again.
Best Places to Get a Steak South of Myrtle Beach
Litchfield Beach | 11 May 2016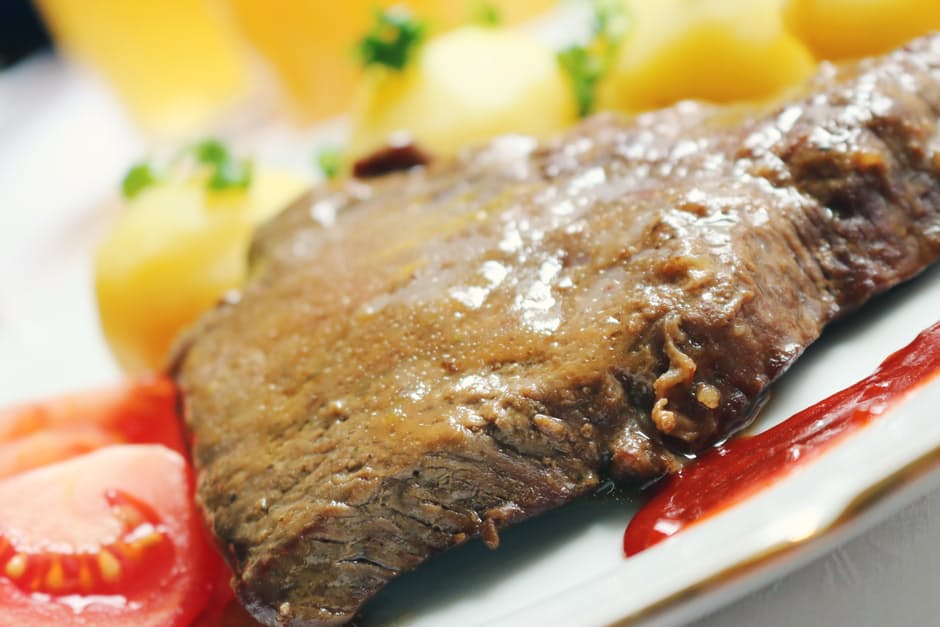 It was the venerable Homer Simpson who once said, "You can't make friends with salad."
And with that, a chorus of carnivores cheered in unison.
While we do love salad (sorry, Homer), you just can't beat a great steak, and lucky for us, the communities south of Myrtle Beach have some beautiful and beefy options. Here are five best bests in Pawleys Island, Murrells Inlet and Litchfield.
1) Frank's Restaurant and Bar: Of all the incredible places to grab a steak on the Grand Strand, this is arguably the best —insofar as it is actually a steakhouse, er, chophouse. In addition to an extensive restaurant menu in which one can procure anything from braised Colorado lamb to pan fried quail, Frank's offers a special chophouse menu for the purists. Choose a cut (ribeye, filet, New York strip, dry-aged bone-in ribeye), all significant in size and expertly prepared, and then add on the traditional sides: onion rings, truffled fries, bacon and cheddar grits casserole, garlic mashed potatoes, fresh asparagus, creamed spinach or roasted fingerlings. The steaks range in price from $44-$46 and the sides are all $6.50. We won't judge if you're tempted to get them all. Heck, we sure are.
2) Austin's Ocean One: Given that the earth's largest source of water is name-checked, you would be correct to assume this sexy, contemporary spot is a good one for seafood. And it is. But allow us to also point you toward the 8 oz. grilled filet mignon with a mushroom-port demi glaze, whipped potatoes, bacon, onions and wilted spinach for $30. Couple that with a glass of robust red and you've got yourself one memorable meal. Oh, and don't forget to start with the steakhouse iceberg wedge —it's the point of entry for any meaty meal.
3) Bistro 217: Ah, surf and turf. Otherwise known as the best thing to ever happen to hungry, indecisive diners. This Pawleys gem offers their certified Angus filet alongside seared shrimp, creamed spinach, gruyere potato cake, and a Russian tarragon barnaise ($36). Not only is this delicious dish globe-trotting, it's terrain-hopping. Moving to another cut of meat, their certified Angus beef braised short ribs is as comforting as comfort foods gets. Melt-in-your-mouth short ribs arrive with buttermilk mashed potatoes, country green beans with bacon, crumbled blue cheese and cider braising reduction ($29). Can you say, "yum"? They also make an award-winning burger, but we'll get to that some other time.
4) Driftwood's Seafood and Steak: Here's a little pro-tip for those headed to this Murrells Inlet joint: fast before arriving, for you will be fed. Peruse their menu heavy in local favorites such as the oyster dinner, Low Country boil or fish and grits, before landing on their affordable selection of steaks. Choose a New York strip, flirt mignon, surf and turf, "strip and chick,"sirloin or a half-rack of ribs and shrimp. All steaks come with a breadstick, tossed salad and a choice of baked potato and fries for under $20. This is a good spot if you're out to feed a crowd.
5) Bliss: If you're in the mood for love —for the love of meat, that is — then head on over to this romantic Murrells Inlet mainstay. We love their tasty, creative seafood items, but we don't often meander far from their "From the Butcher's Block"selections. A 12 oz. grilled ribeye with twice-baked potato, fire-roasted mushrooms, baby vegetables and blue cheese demi-glace ($24) has the heartiest of appetites covered, while the 8 oz. filet with three-cheese potato gratin, baby vegetables and garlic herb butter ($25) is a good choice for the slightly smaller stomach. While not steaks per se, consider their veal osso bucco with asiago polenta ($28) or the braised short ribs with cheddar grits ($21) as good alternatives to the traditional steak-and-potato option. But honestly, how could you possibly improve on that?
What's your favorite spot to get a steak south of Myrtle Beach? Let us know!
(Posted: 11/19/14)